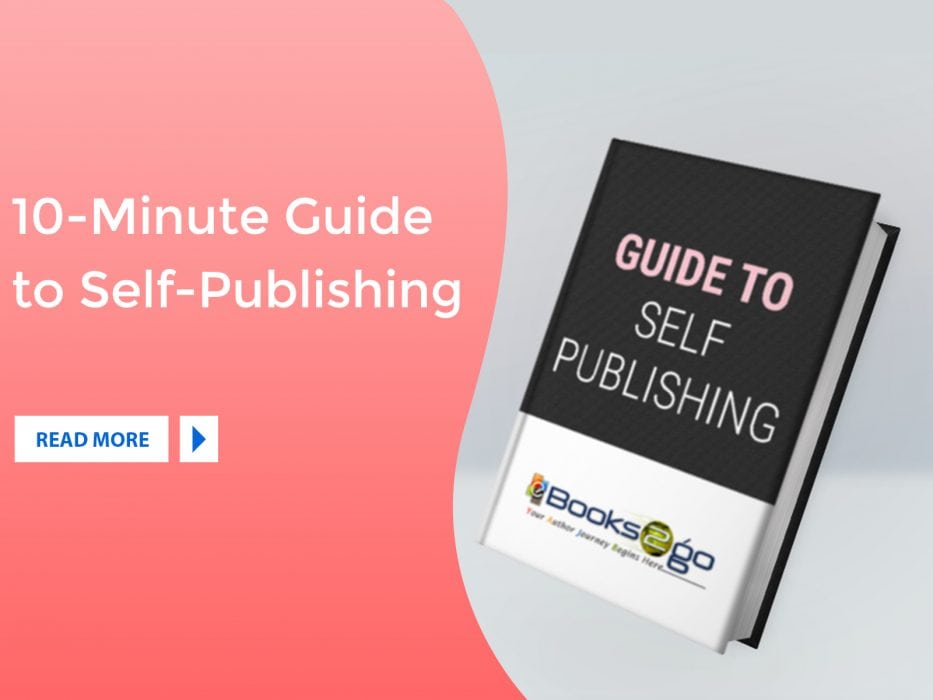 For a long time, self-publishing was a hidden gem in the publishing industry. But recently it has grown in popularity and has become a standard solution for many writers with publishing aspirations. Now, just about anybody, if they are driven and put in the work, has the opportunity to publish a book.
With this path becoming increasingly popular, more and more writers are wondering, "How do you self-publish?" This blog aims to answer that question.
Here's your 10-minute guide to self-publishing
Edit Your Book
Your book is written, and it's time to take the next steps! In my opinion, the first step should be getting your book edited so you can finalize your manuscript. Before you publish your book, it is absolutely crucial to have your work professionally edited. Not just by your neighbor down the street who once taught English, but actually by a professional editor. Writing mistakes happen to the best of us, and you want to make sure you spot them before your readers do.
A book with mistakes, even if it's just a few, reflects poorly on the author. It can cause a poor review or prevent the reader from picking up other work from the author. Getting your work edited is essential. I know it can be scary to have your work critiqued, but the editor is not there to destroy your work, they are trying to help you! Trust me; it's well worth it. Even the best writers need an editor.
Create a Cover Design
We all know the saying, "Don't judge a book by its cover," but the reality is that everyone does. The cover is what people first see when they are introduced to your book, so you need a killer cover to capture the reader's attention. Use colors, shapes, patterns, images, fonts, and other design aspects to visually portray the message of your book.
Keep in mind that for any images you use, you will need to obtain the rights for the photo. To use a picture from a professional photographer, you will need to purchase the rights to the image from them. There are also stock image sites like Adobe Stock and Shutterstock that allow you to buy the rights to their images. And Pixabay has a large selection of stock images for free!
Register for an ISBN
ISBN, or International Standard Book Number, is a unique identification code for books and related products all over the world. Essentially it's the social security number for books.
An ISBN must be assigned for each book format. So, if you have an eBook, a paperback, and a hardcover, you will need three different ISBNs. This will help you analyze the sales numbers to distinguish which products are performing best.
When you self-publish, you'll be required to purchase your ISBN and eBooks2go offers them for $29.99 per format.
Produce eBooks
After you prepare your book, it's time to produce it! An eBook conversion is an indie author's best friend because it offers a cheap, simple, and flexible way to reach readers worldwide. The eBook conversion process requires you to convert your manuscript file into a format accepted by eReading devices so it can be properly displayed and easily read. There are two types of eBook files: Mobi and ePUB.
The Mobi file is used exclusively by Amazon Kindle devices, while the ePUB file is compatible with all other eReading devices. So, for someone to read your book on an Amazon Kindle, you'll need a Mobi file. For someone to read it on other eReaders such as an iPad or Android device, you'll need an ePUB file.  
Fortunately, you aren't limited to choosing just one eBook file format. By using both an ePUB and Mobi eBook conversion, you can reach more readers in a cost-efficient manner.   
Print Books
With print books continuing to be the more popular choice for readers, it is essential for authors to offer their book in print alongside their eBook. Digital printing, often referred to as print-on-demand or POD, makes it possible for self-published authors to sell print books. Before print-on-demand, authors were forced to use something called offset printing to order large print runs, store the books themselves, and then distribute the books as they were sold. Now, with POD, a book is printed after it's purchased.  This is ideal for new authors who can't yet make an accurate projection of sales.
Offset printing is still a viable option for large print runs, but it comes with high initial costs, and most would only recommend it with high sales projections. New authors are typically better off using digital printing because you don't have to pay up-front for books that may or may not sell. Here's how print-on-demand works:
An order is placed for your book.

The retailer where the book was purchased notifies the printer.

The book is printed.

The book is delivered to the customer.
To offer print books using the print-on-demand process, you'll need a POD distributor. They will print and distribute your books after a reader places an order across the various distribution outlets. With help from our printing partners, eBooks2go offers full POD services to fulfill all your publishing needs.
Price Your Book
With self-publishing, you maintain control over pricing your book. You get to decide just how much your book is worth. You'll want to search through different online retailers to find books somewhat similar to yours. This will help you understand the industry price standard for books like yours so that you can set a fair price for yours.  
Many new authors who do not yet have a recognizable name or credibility in the industry will initially price their book a little lower than the industry standard to encourage sales and create more readership that can then generate a word-of-mouth movement.
Also, note that eBooks are usually priced lower than print books due to the cost of printing.
Fill Out Your Book's Metadata
Have you ever wondered how a reader finds a book online? Simply put, it's with the help of metadata. Metadata is the information web pages and search engines use to differentiate one book from the next. It consists of details such as your book's title, ISBN, keywords, genre, and description, as well as your author name and bio. Metadata is very important in the online book world, but it's rarely understood. Get an in-depth understanding of exactly what book metadata is with one of our past blog posts.
Since there is no physical product in an online bookstore, book metadata serves as the descriptor to help readers find the right book and determine if it is, in fact, a book they'd be interested in reading. Find out how to optimize your book metadata to maximize reader discovery. 
Distribute Your Book  
Now you're ready to sell your book! You want to go where the readers are, so get your book into as many online stores and libraries as possible. You have two options for distribution: distribute directly with a retailer, or partner with a distributor.  
When you distribute directly with a retailer, you remove any need for a third party. Since there is one less party to split the earnings with you likely will receive higher royalty payments. However, this likely will limit where your book is distributed. Each reader has a preference for where they buy books. They don't all use Amazon or Barnes & Noble, so you want your book to be wherever the reader could potentially be.
Using a partner to distribute your book allows you to access their network of retailers. For example, eBooks2go has partnerships in place with online retailers and libraries like Apple iBooks, Google Play, Barnes & Noble, OverDrive, Kobo™, Baker & Taylor, and hoopla which would then become accessible to you.
Receive Royalty Payments
Once you distribute your book, you can start making money! Every time your book sells, you receive a royalty payment. Here's how it works: The retailer that sells the book takes a cut of the money. The distributor, if used, takes a cut of the money (eBooks2go receives 10 percent). Finally, you receive the rest!
Each retailer has different agreements with their authors for how much they take for each sale, but you can typically expect to receive anywhere from 40 to 70 percent. As opposed to if you went the traditional publishing route, you'd only make about 5 to 15 percent in royalties.
Promote Your Book
Promotion is the step many self-published authors forget or don't take into account. The end goal for every author is to sell books—but you can't sell books without marketing. Book sales don't just happen; you have to make them happen! Start with friends and family and continuously expand your fans from there.  
Book marketing is a process that takes times, consistency, strategy, adjustments, and patience. You won't just magically have a bestseller all of a sudden. That happens through the work you put in through a variety of tactics and strategies such as social media, blogging, email marketing, book signings, speaking events, and more. Learn all about the book marketing process to sell as many books as possible!
Self-Publishing Guide
The reality is, even though it's called self-publishing, you can't do it all on your own. If you do self-publishing right, it can be very demanding but also incredibly rewarding. Don't be afraid to reach out to people for help, whether it's us at eBooks2go, who has a passion for helping writers achieve their dreams, or it's your best friend who's an artist and can help design your book cover. Create that support team around you who can help you whenever you hit a new roadblock!
eBooks2go would love to be that support team for you! We offer comprehensive self-publishing packages that walk you through each stage of the publishing process. Check them out here and start self-publishing.