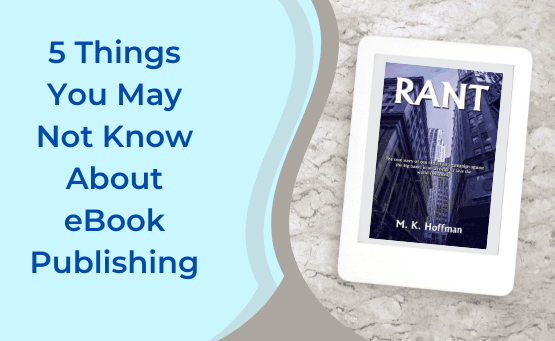 I. eBook Publishing is one of the easiest way to be a published author
If you are considering on publishing a book, you need to look into eBook options.  There are many different places that have eBook conversion services.  Some of these services are free, and some companies get paid for helping authors proofread, format, and design eBooks.  The cost of publishing printed books are much more expensive than eBooks because of printing and shipping.  Here is the breakdown of what printing may look like.  For Lulu (a book printing service) to print a 200 page paperback novel will cost them $3.90.  The Cost for the author to buy each book will be $8.50.  If you want to sell 300 books, it will approximately cost you $2,400 with a standard shipping cost of $120.  You may also need to factor in the cost of printing and shipping new books when inventory runs out.  Publishing printed books reduces the amount of profits you will get from royalties because of the continuous costs of printing.  The average cost to convert your book into an eBook readable file such as .ePub or .mobi will be around $199.  After conversion,you only need to distribute the book.
II. The difference between Epub and Mobi files is important
An Epub file is the specific file format eReaders use.  Epub's are open format which means a company does not own its exclusive rights.  Since Epubs are standard formats, it can be read by most eReading devices.  These devices consist of iPads, iPhones, Kobo eReaders, Nooks, Sony Readers, and Android devices.  You may have noticed that one major player is missing from this list.  That's right; the Kindle.  This is where the difference between an Epub and Mobi file arises.  Amazon Kindles only read Mobi files because Amazon bought the Mobipocket eBook format.  As an author you need to consider which formats you want your books to be converted into.  If you publish an Epub file, your book will be readable on most eReaders, but if you don't convert your file into a Mobi, your book will be missing from a large portion of the eReader market.
III. eBook Publishers have different services and capabilities
Different eBook publishers have different capabilities.  Some publishers allow you to convert your own eBook files, but you need to know how to format books into eBooks correctly.  For some this is a very difficult process so some authors enlist publishers that will format the files correctly and efficiently.  For instance, our company, eBooks2go has enhanced eBooks capabilities.  In addition to your standard conversions for Epub and Mobi files, distribution, and ISBNs; eBooks2go can put music, videos, games, and read along functionalities for your book.  As an author you will need to look into different eBook publishers based on what your needs are.  If you are looking for something more than the normal eBook formats, look at our services section to see what we can do for you.
 IV. Pricing Strategy for of eBooks is important
Since eBooks are downloads, the consumer market puts a different value on the book.  The content of the book will be the same, but the expected price for eBooks are much lower than their printed counterparts.  The optimal price for an eBook is $0.99 and between $1.99 and $4.99.  The price between $0.99 and $1.99 significantly under performs.  One aspect that authors need to think about is their book's goal.  Are you trying to create lead generation for your book?  Then you might want to price your book at $0.99 because it is more appealing to consumers since the cost of read your book is low.  This pricing model should also be considered for serialized novels for the first book in the series to get some reader's foot in the door.  Also, the market puts more weight on non-fiction works, so if you have a fantasy novel, you might want to have a lower price point.
V. eBook metadata is key
The first thing you should be asking is what is metadata?  Metadata is data that describes other data.  That may sound a little confusing at first, but we'll take it step by step.  Your eBook, when it goes to market, is considered data.  When it goes to different distributors, they need your book's metadata so that it can be found by different people in the distributor's store.  For instance, if you wrote a True Crime novel about a detective who went undercover to infiltrate a drug ring in the south side of Chicago.  Your metadata might consist of crime thriller, drugs, murder, etc.  Metadata is important because distributors have millions of books on their servers, and they need to be able to sort through all of the books to find your book.  As an author you need think carefully of the metadata you use because the metadata dictates whether or not your book will be found by the right audience.