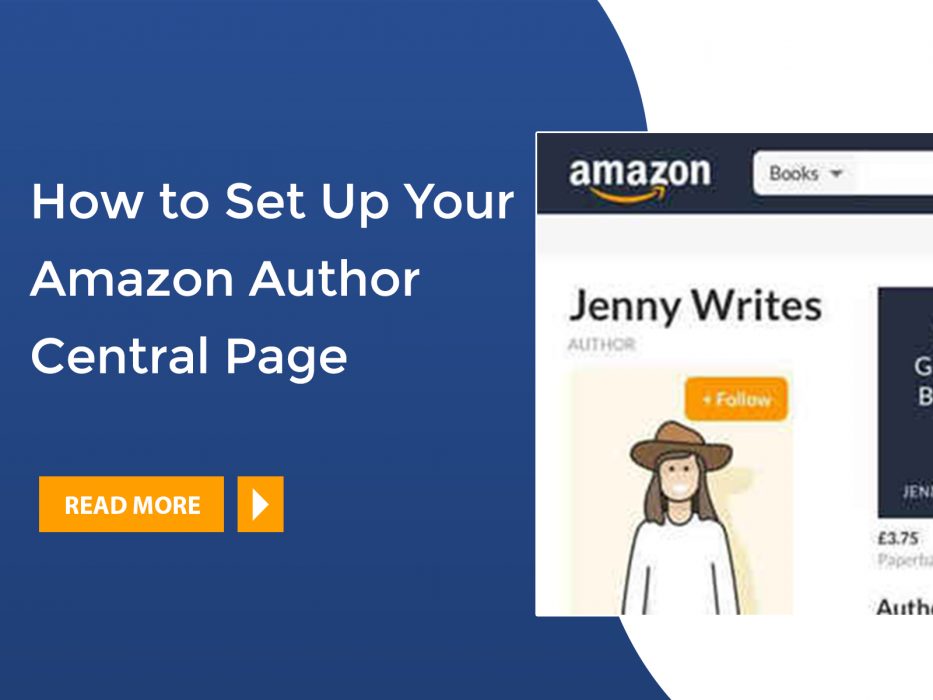 As an author, you want to get your books in front of as many eyes as possible. Facebook, Twitter, Instagram, and LinkedIn are all great ways to market your work, and you're probably already selling your books through Amazon. But did you know that there's a majorly overlooked resource that can help you sell more books, grow your author platform, and let more fans connect with you? Amazon Author Central is an excellent marketing tool for authors and an easy way to create a professional Author Page (like this one) to grab readers' attention.
What is Amazon Author Central?
Amazon Author Central is a platform for published authors whose books are available for purchase on Amazon. It is also where you can create a professional author page to share information about yourself and your books with millions of readers and help them find your books all in one place. As a bonus, it's completely free!
Within Amazon Author Central, you can:
Track book sales

Fix issues with your book listings

Add editorial reviews 

Respond to Amazon reviews

Chat with readers

Check your Amazon Best Sellers ranking

And more
Creating a professional author page can seem intimidating. Where do you start? What information is important? How do you use it? Don't worry. Amazon makes it easy. Simply follow the steps below to create a great Amazon Author Central page that will help your book sales take off.
How to Create Your Amazon Author Central Page
First, go to

authorcentral.amazon.com

and click "

Join for free

."

Next, log in with either your Kindle Direct Publishing email and password or your regular Amazon account credentials. If you do not have an existing Amazon account,

create a new one

and log in.

Then, claim the book(s) associated with your main author's name. Make sure you include all versions of your books (audiobooks, eBooks, paperback, and hardcover) since each will have a

different ISBN

. If they don't show up, contact Amazon's Technical Support team to link all of your books together. If you have co-authored a book or have other pen names, you can add those books later.

Finally, verify your account.
Now that you've created your Amazon Author Central page, it's time to fill in the important details to let fans know more about you.
What to Include in Your Amazon Author Central Page
A Solid Author Bio
You'll add this under the "Biography" section of your Author Page. If you don't already have an author bio, here's the perfect opportunity to write one! Help readers get a sense of who you are, what you write, how you stand out from other authors, and why they should invest their time reading your books. Highlight your works and other professional achievements, add some personal touches (e.g., hobbies outside of writing), and share your social media profiles, blogs, and websites so readers can follow you on those sites as well. Check out your favorite author's bio for more inspiration.
An Author Photo
Or multiple photos. People like to match a name to a face, and your author photo is a great way to let your personality shine. Amazon Author Central allows you to include up to eight photos, so why not take advantage and include photos that will help build and strengthen your author brand.
An Author Updates section
This is where you can insert blog posts or short videos from elsewhere right on your Amazon Author Central page. It's an easy way to keep fans updated across all platforms about new books, book tour announcements, social media contests, and more.
To add a blog, select "

Add blog

" under "Blogs." Then, enter the RSS address for your blog, and click "

Add

." 

To add videos, select "

Add blog

" under "Videos." Next, click "

Browse

" and upload your video.
More Books
If you have co-written a book with another author or have written some books under a pen name, you can still claim these on your Amazon Author page. However, you may want to consider creating a separate Amazon Author Page for books under a pen name due to any privacy or brand concerns. But if you would like to merge them with your main author page, you can easily do so. First, select "Add more books" under the "Books" tab. Then search for your other titles and select "This is my book."
When adding a book as a co-author, make sure the primary author or editor has listed your name as an author. If so, you should be able to follow the same process.

When you are adding a book written under a pen name, select "

This is me

" next to your pen name. Next, you will receive a dialog box saying, "This doesn't look like your name." Don't worry. Simply click "

This is my pen name

." Amazon will then create a new author page under that pen name, which you can edit from your existing dashboard.
Editorial Reviews
Book reviews can be a great marketing tool for your book. If you have positive editorial reviews, use them to your advantage!
To add editorial reviews:
Select the "Books" tab from your Author Central dashboard

Choose the book you're adding a review for

Select "

Add

" and then "

Review

"

Afterward, select "

Save Changes

"
After including these things, you will have a solid start to your Amazon Author page – just remember to keep updating it regularly!
International Author Pages
Amazon allows you to sell to and connect with fans around the world. Setting up international Author Centrals makes it even easier to do so. Amazon Author Central is available in several countries. Simply repeat the above steps and follow the links below:
Looking for More Marketing Assistance?
eBooks2go offers comprehensive book marketing services to help you during every step of your author journey. Schedule a free marketing consultation today.