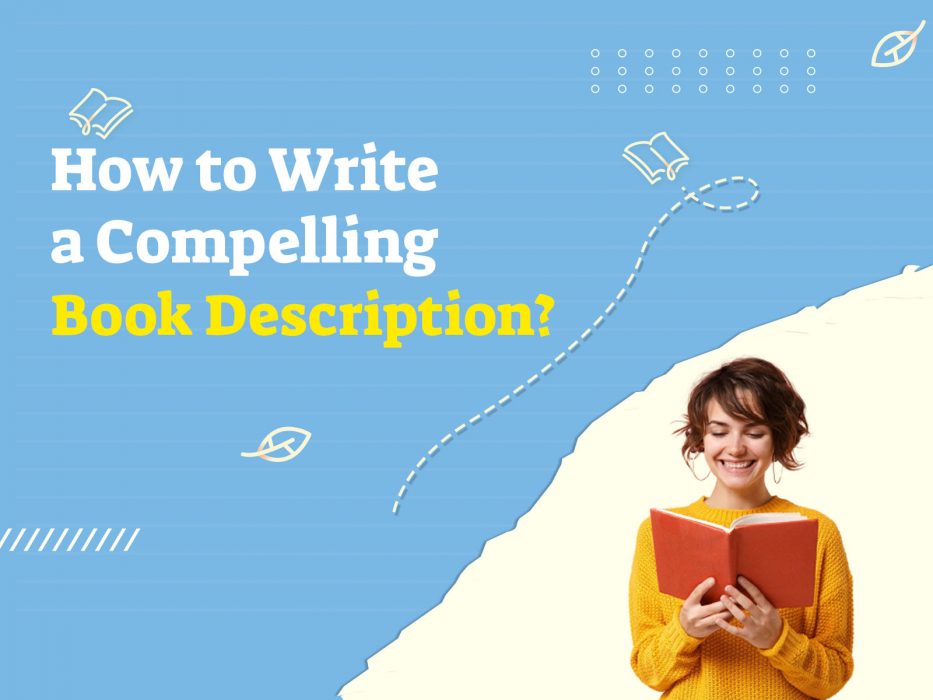 Perhaps the most important marketing material for any book is its description. Though the title and cover capture the reader's attention at first glance, the book description is what coaxes the reader to either buy the book or place it back on the shelf. For instance, ask yourself first, "Is my book a romantic novel or a detective story? Is it non-fiction that will testify as a life-changing book by my readers?" Once you have the answer, you will be able to write a book description.
4 Steps to Write a Book Description That Sells
For Fiction Titles 
Be it a mind-bending thriller or a heartwarming romance, the opening line conveys it all. Fiction titles only have a few seconds to captivate the reader. Hence, fiction writers are recommended to write their book description with a killer opening line that would instantly anyone's attention. For example, here's a classic example of the first line from Catcher in the Rye by J.D. Salinger: If you really want to hear about it, the first thing you'll probably want to know is where I was born, and what my lousy childhood was like, and how my parents were occupied and all before they had me, and all that David Copperfield kind of crap, but I don't feel like going into it if you want to know the truth. The introduction is the hook and once you hook them, they will be more willing to keep reading.
For Nonfiction Titles
An impressive opening book description is a must. Your book description is the pitch to the reader about why they should buy your book. It provides clues to the readers if the book is meant for them(their preferred genre, memoir or self-help guide, etc.) or not, following which they may decide to make the purchase.
So, how do you write a book description that sells? Read along to learn how to lure readers for your fiction or nonfiction titles.
Hook & KISS(Keep It Short & Simple)
Fiction
Always begin with an eye-catching headline that describes the core subject (ex- genre, themes, series, etc.) in no less than 250 characters. Think of the headline as a film trailer. It must hook the reader and implore them to read more and discover what the book has to offer. Here's one more example, "A young woman finds herself lost in the plains of Arizona with nothing but her horse and a vague idea of the fabled town she's searching for." This debut novel puts a fresh spin on the classic western with a female heroine and a mystery that needs cracking. Keep the readers intrigued with a hint of a twist that may change the course of the entire story.
Nonfiction
For nonfiction titles, a solid, catchy, and direct book description solidifies the reader's mind. And within a short time, a reader may soon turn into a potential buyer. If at all your book's description is lengthy and confuses the readers, it may never see itself off the shelves, unless a strong recommendation from the right source adores the front cover of your book.
Pain & Pleasure
Fiction
Focus on your genre readers before you start writing your book description. Knowing your readers' interests better will fuel you to write an impressive book description. For instance, describe a conflict in your story. If your story hops around multiple exotic locations, then try to include them in your book description. Oftentimes, these factors help connect readers with your story and pique their interest to read further.
Nonfiction
Once you gain attention, the next line must reiterate the pain or a challenge that your readers may face in real life. Mention accurately in plain language what those challenges are. Follow it with the most important line – how this book solves it or assists the readers to confront those challenges. Explain clearly what pleasure it brings to readers after they read your book, but be careful not to over-pitch or oversell. 
Establish Credibility
Fiction
Reach out to established authors of your specific genre and try to obtain a blurb for your cover. Sometimes, a strong endorsement or even a foreword from an influential author may turn your fiction title into a bestseller. For instance, if you're writing a horror novel, a foreword from an established author like Stephen King would persuade the reader to buy your book even if it is your debut novel.
Nonfiction
Set the mood. Give readers an idea of the style and tone of your book by using paragraph breaks and bulleted points to break up thick walls of text. This allows readers to scan your book description easily and connect faster. For example, list major and realistic benefits as bullet points to let readers understand what they will gain by reading your book. Also, maintain a network with like-wise authors and always stay connected. Strong connections benefit you a long way. When a renowned business figure such as Jeff Bezos recommends your self-help book on an e-commerce startup, the sales of your book increase by a great margin.
Leave a Hint with a Call-To-Action
For Both Titles
Now that you've managed to grab your reader's attention with the first three steps, the final step is to inform your readers that your book contains the secret sauce on how the quest(for fiction) or challenges(for nonfiction) was achieved successfully. Don't give away the ingredients of your secret sauce. Instead, subtly pitch to your readers to buy the book. If your book description can hold readers this far, then the sale of your book is eventually inevitable.
Final Thoughts
Incorporating all the above steps into your book description shouldn't be tough. Read the book descriptions by authors in your genre. Compare the descriptions of bestsellers against the least sold books. After preparing your notes, create a book description that is both compelling and sellable.
Also, seek professional help when needed. eBooks2go offers free marketing consultations to give you additional guidance on how to position your book, as well as what type of keywords to use. Request a consultation here.