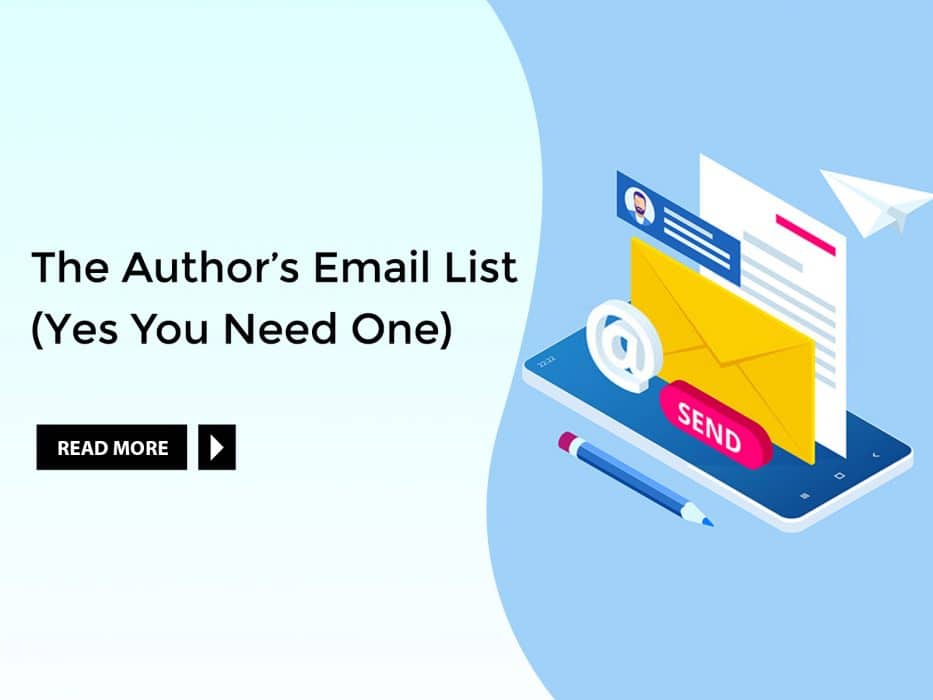 How many freebies have you collected for the cost of an email address? If you've ever entered your email address in exchange for a sample chapter or free guide, you've seen how email addresses can become valuable tender. It may mean nothing but spam messages to you now, but once you start building your email list, you will see its true value.
What's the Big Deal About Email Lists?
Some book marketing "gurus" will tell you that email is a thing of the past. That no one reads it anymore. You're better off applying for a BookBub feature or posting three times a day on four social media sites.
Yet, here we are stating boldly that every author needs an email list. Why? It comes down to statistics. In 2017, approximately 90% of Americans had email accounts. More than half of all email users check their email first thing every morning. 
It may seem like you can reach more people in less time through social media, but research shows that average engagement is less than 1% for social media while open rates for email messages is around 23%. On average, email users follow links from an inbox message close to 3% of the time. That may seem low, but it shows that you're more likely to receive a response from an email message than from a social media post. 
Email marketing remains one of the easiest and most effective ways to do the following:
Develop personal connections and trust with readers

Encourage repeat traffic to your website or blog

Engage fans and potential readers to determine their needs, wants, likes, dislikes

Obtain valuable feedback from engaged readers

Build buzz and excitement before the release of a new eBook

Secure sales for new releases and previously published eBooks
Yes, you can do a lot of this through social media and perhaps through text messaging. Email marketing works well with all other forms of book marketing, so you don't have to choose. For many authors, an email list outperforms other marketing strategies with less time commitment and financial investment.
The Gateway to Effective Book Marketing
How many times have you said that you don't have time to promote your books? Maybe you're a shy writer, so you don't feel comfortable going live on Facebook or starring on TikTok. Or perhaps just the thought of marketing your work is overwhelming.
Building a website and email list is the solution for every author who doesn't take naturally to marketing.
It's personal, but you don't have to look your audience in the eye or sit on camera waiting for viewers.

You can send emails at the frequency of your choice. If you're crazy busy, you can spend one day writing multiple emails and then schedule them to go out on a monthly or weekly basis.

The process is simple, and you always have our experts on hand to help as needed.
When to Start Building Your Email List
The best time to start building your email list is today. It doesn't matter if you have one book published, fifty books published, a rough draft in a drawer, or just an idea burning in your mind. If "published author" is your goal or your dream, start building your email list now. It gives your list time to grow while you're developing relationships with readers who will one day jump to buy your book.
Need a little help setting up an author website and creating an irresistible giveaway to grow your email list? eBooks2go offers comprehensive book marketing services, and we're always here to guide you through the email list process and every other hurdle along the way to publication. 
Schedule a free marketing consultation with our Marketing Manager today.