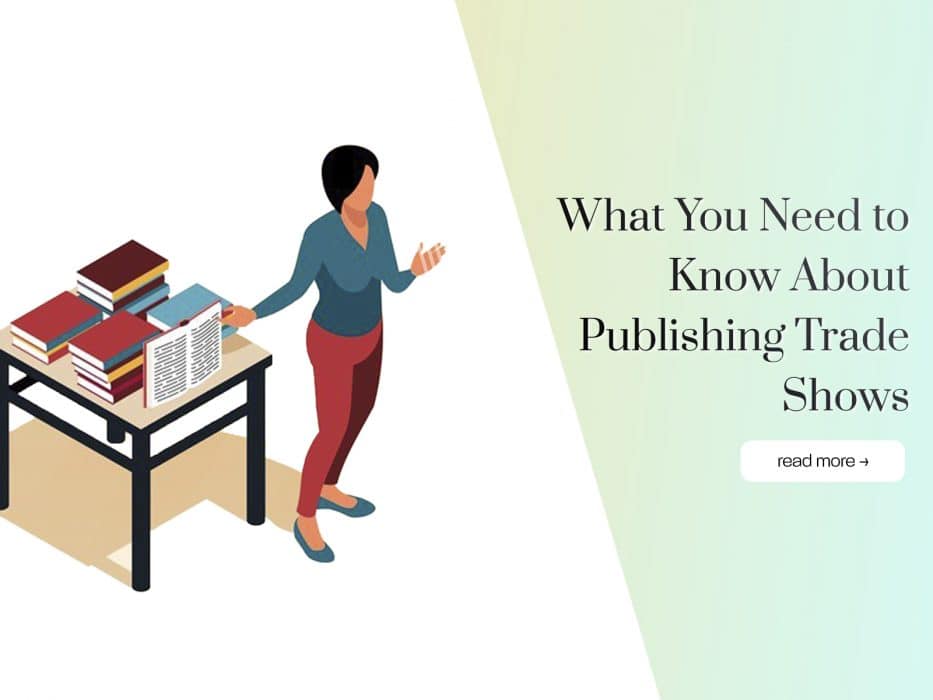 You know the saying, "It's not what you know, it's who you know"? Well, trade shows can be an awesome way to extend your connections and advance your book publishing endeavors. Publishing trade shows provide a chance for you to make industry connections, showcase your work, gain valuable insight, form partnerships, and much more.
Recently, some of our eBooks2go team was able to attend BookExpo in New York City. We had a great experience and met some wonderful people at the event, including some BookExpo rookies. It got me thinking, what advice could I give to those who have never been to a publishing trade show?
So, I've come up with some helpful hints to prepare you for the next publishing trade show you attend.
What to Expect
All-Day Event
Most shows open up to the public around 9:00 a.m. and go all-day until about 5:00 or 6:00 p.m. Because it can be a long day, pace yourself. Of course you don't have to stay the entire day, but if you choose to, make sure to take some breaks and stay hydrated. As long as you plan out things in advance, you will have plenty of time to get everything accomplished.
There's usually a food court where you can grab some food, water, and just sit for a bit. Believe me, it'll be needed at some point. Also, because the day can take a lot of you, make sure you get a good night's rest. You'll be thankful you did!
Bring Your Walking Shoes!
The trade show floor is huge! There are exhibitor booths set up everywhere and you'll want to see everything so you'll be doing a bunch of walking. Bring comfortable shoes that you know you'll be able to walk around in all day. And don't forget your Fitbit because you will easily hit your steps goal!
How to Prepare
Research the Event
Go onto the show's website and do some research. Who will be there? Who do you want to talk with? Who do you want to listen to speak? There will be opportunities to pursue business and moments to be a fan! Look at the list of exhibitors and the event's schedule so you can create a plan for balancing both.
Study the Floor Map
Each show has a specific floor setup. Powerhouse publishers will typically be front and center and then the other exhibitors will be grouped in certain sections depending on their focus or niche. Spend a little time studying the layout so you better understand the sections that might be of extra interest to you. Also, circle or mark down the exhibitors you know for sure you want to stop by so you don't forget.
With many of these shows being so large, they can be somewhat overwhelming especially if you are unprepared. Show up prepared, so you are able to get as much accomplished as possible.
Schedule Meetings
The show's website usually contains a list of the exhibitors attending and their contact information. Find some exhibitors you wish to connect with and reach out to them before the event. Hopefully, they will have some time available for you to meet. If not, stop by their booth at a time when it isn't crowded so they can give you their undivided attention.
What You Should Bring
Business Cards
Print a bunch of business cards before the event. Then when you are talking with someone new, hand them your card and grab one of theirs so you can follow up with them after the show. You can always bring a backpack and a few copies of your book as well, but business cards will make your life easy! They're small, lightweight, and cheap to print! Some places to print business cards include Office Depot and Vistaprint.
A Notebook
You're going to be talking with a lot of people and you need a way to remember who they are and what you talked about. I've personally found that a notebook  really helps with this. After you talk with someone, leave a little note to remind yourself who that person was, what they do, and if you feel there's an opportunity to further pursue business/partnership with them.
We always think we will remember who someone is, but when you are meeting so many new people, two weeks later they all sort of blend together. Some people are better than others at remembering this sort of thing, but regardless it's always beneficial to leave notes when the contact is fresh in your mind.
Take Full Advantage of the Show
Meet Lots of People
Just meet people. Even if there doesn't seem to be an immediate opportunity, the connection can still offer you value. Maybe there will will be an opportunity down the road or maybe they can help introduce you to someone. Knowing people in this industry will be very beneficial to your writing and publishing career, and these trade shows offer rare opportunities to meet people face to face. If you can make a handful of quality connections at these events, I believe it will be well worth attending!
Make a Lasting Impression
Before speaking with someone, research them to learn as much as possible. Think of how they can help you and how you can provide value to them, similar to a job interview. Don't ask the simple, generic question. Dig a little deeper and ask something you know will catch their attention. For instance, if you're speaking with a publisher, maybe ask, "what's your favorite book that you guys have published and why?" When you ask more personal questions, they're more likely to remember the conversation.
Be engaged, ask good questions, and leave an impact that makes them remember you!
Upcoming Publishing Trade Shows
American Library Association Annual Conference & Exhibition
ALA Conference takes place in New Orleans this year, from June 21–26.
Writer's Digest Annual Conference
Writer's Digest Annual Conference is in New York City from August 10–12.
Writer's Digest indieLAB
Writer's Digest indieLAB takes place in Cincinnati, Ohio from September 29-30.
Frankfurt Book Fair
Frankfurt Book Fair takes place in Frankfurt Germany from October 10–14.
London Book Fair
London Book Fair is in West Kensington, London, England from March 12–14.
eBooks2go will be attending ALA and Writer's Digest Annual Conference and we would love to see you there! If you won't be attending either of these events but would still like to connect, get in touch with us here.