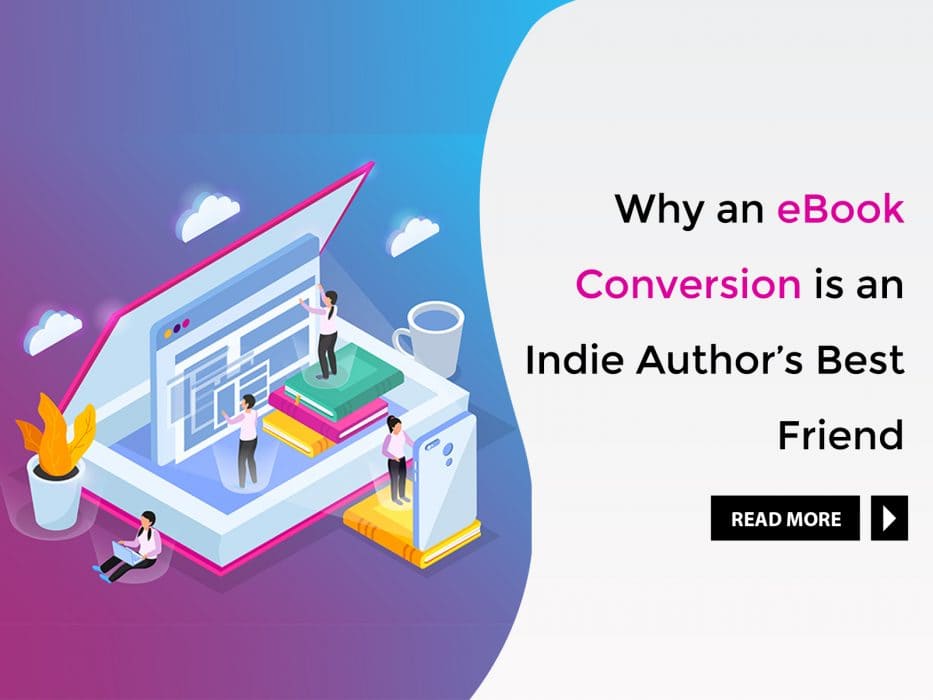 When a writer envisions publishing their book, the scene in their head typically involves holding a physical copy of a newly printed book. While it's a great image, it's not the only way that authors become published especially in self-publishing. In fact, there's an easier, cheaper, and arguably more beneficial way.
eBook conversions can serve an independent author just as much, if not more, than a printed book. Don't get me wrong, I absolutely believe that authors should sell print books. A majority of readers still prefer holding a physical book as they read, and you must produce what readers want. But I do believe, and the industry agrees, that it's absolutely necessary to offer eBooks as well as print books.
Here's why an eBook conversion is your best friend …
Cost to Publish
When you elect to publish print books, you can mass print hundreds of books at a lower production cost in the hopes they will eventually sell, or you can use print-on-demand to print each book order as it is placed. Regardless, printing a book can be expensive for indie authors who don't always have a large budget to work with.
eBook publishing, however, you pay for one or two eBook files and that's it. There's the Mobi file, which is compatible with the Amazon Kindle. Then there's the ePUB file, which is compatible with all other eReaders. Learn more about the differences between Mobi and ePUB files from our informational blog post here. Whether you convert you book into both an ePub and a Mobi file, or just one of the two, an eBook conversion is a very cost-efficient way to make your title available to millions of readers worldwide.
Simplicity
One of the challenges of traditional publishing is the timeline. It often takes months and even years once the manuscript is finished before the book actually hits the market. Self-publishing an eBook is as simple as it gets. Once your manuscript is written, edited, and finalized, your title can be converted and made available in the marketplace in as little as five business days.
Here's how simple it is:
Upload your manuscript.

Select the eBook file(s) to convert your manuscript into.

eBooks2go or another eBook conversion service provider converts the manuscript into your selected eBook file(s).

Choose the retailers to distribute through.
BOOM! Now readers all around the world can buy your book.
Global Reach
Worldwide eBook distribution is only clicks away. Today, more books are purchased online than in stores. This makes the eBook market the perfect opportunity to reach people globally. As an indie author, you have several options for distributing your book. One being to join forces with a distribution service that already has partnerships with retailers in place, giving you access to any and all of their retail partners. Your book then becomes readily available to many of the largest and most prominent online retailers in the world.
eBooks2go offers worldwide distribution in over 200 countries at no upfront cost (however we do receive 10% of the royalties from sales). With our distribution network, your book would be distributed through Apple iBooks, Barnes & Noble, Google Play, Kobo, hoopla, EBSCO, OverDrive, and many other large retailers and libraries.
Price Flexibility
As a new author hungry for any opportunity to develop your author name, you're always looking to build and grow your readership. eBooks offer a less expensive way for readers to buy your book. If they've never heard of you and haven't read any of your work before, the cheaper your book is priced, the more likely readers are to test it out.
The common industry standard is to have eBooks priced about 30 percent under the price of a paperback copy. However, you also have the power to change the price of the eBook as you wish. Since you aren't dependent on covering the cost of printing, you have the ability to maneuver the price of your eBook, depending on how sales are going. One common strategy is to run a promotion that lowers the price of their eBook to 99 cents. Once the book gains momentum and its demand increases, the ends the promotion and raises the price. 
Free Giveaways
With eBooks you're able to offer free giveaways for a limited time or for a specific amount of books. Again, with the only expense being the initial conversion, you have added flexibility. The strategy here is to increase your readership and gain online reviews. When your book gains reviews your search ranking in online bookstores improves. You also start to encourage word-of-mouth marketing, which continues to be extremely effective.
A simple way to offer giveaways is through Goodreads and Apple iBooks. Hosting giveaways on Goodreads allows you to select the giveaway's details, such as the amount of books to giveaway, the time period for the giveaway, and how the winners are chosen. With Apple iBooks, you are given free promo codes to send out to up to 50 readers. You can even create book contests to generate more engagement and excitement.
Improved Reading Experience
Print books are awesome, but they can only offer so much for the reader. Electronic books on the other hand can be much more personalized for a specific reader to improve their experience. There are two different eBook formats: fixed layout and reflowable.
Fixed layout is similar to a print book: the content on each page is set in place and cannot be altered. But a reflowable eBook allows a reader to change certain aspects of the eBook such as font type, font size, spacing, and more. As the reader chooses their preferences, the eBook then seamlessly rearranges each page to flow properly.  
You are also able to add in different enhancements and features depending on your book and its characteristics. For example, you can add internal and external hyperlinks, video, audio, read along, animation, and much more to turn reading into an interactive and even hands-on experience for your readers.
Reader Convenience
While a majority of readers still prefer print books, that doesn't mean eBooks are unnecessary. Many people who prefer print still read eBooks because of their availability (me, for example).
When someone has a few minutes of free time, an eBook makes it possible to pull out a book and read a few pages on a variety of mobile devices, no matter where they are. The convenience of having a book in your pocket at all times is reason enough for many readers. And if there is reason for the reader to read it, there is reason for you to produce it.
So when you picture your book at last becoming published, envision your scene in a more digital way with an eBook. Imagine the heights your book dreams can reach! Start your eBook conversion today!